Ukraine Limb Prosthetics Industry Survey: Analysis and Report.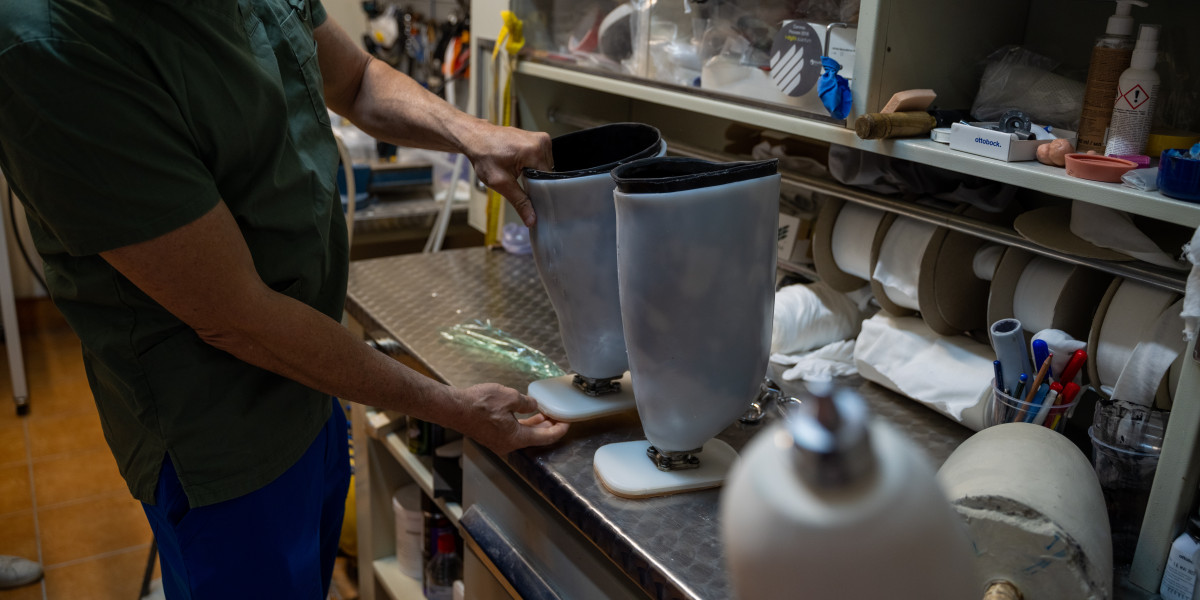 Aug 28, 2023
Copyright Protez Hub. All rights reserved.
Protez Hub must be referenced when citing all or part of this report.
protezhub.com
Introduction and Мethodology
Аs the war in Ukraine continues, it is important to understand the dynamics and the trajectory in which the Ukrainian limb prosthetics industry is developing. 
Media publications and occasional anecdotal evidence that come out shine some light on the situation, but may lack objectivity, as well as may be skewed by the limited number of stakeholders interviewed.
Protez Hub took a more solid approach to ensuring a better understanding of the industry needs, successes and challenges.
Between April and July 2023 Protez Hub conducted a series of extensive surveys (covering a one year period) targeting different categories of respondents:
civilian and military amputees,
prosthetists/orthotists,
rehabilitation specialists,
owners/directors of state/private prosthetic facilities across Ukraine.

An amputee survey was done through clustered voluntary participation. We approached upper, lower, as well as both upper and lower limb amputees asking them to complete a comprehensive survey. 567 amputees participated, among whom 8.7% were upper limb amputees, 1.6% were both upper and lower limb amputees and 89.7% were lower limb amputees.
Professionals from all Ukrainian prosthetic facilities were invited to participate in three different surveys overtime, each focusing on different topics and considerations.
Ukraine's Limb Prosthetics Industry Оverview 
Currently there are over 80 prosthetics providers in different parts of Ukraine. Some of these providers are prosthetic clinics under one chain, while others are independent centers. 
New providers have emerged since the summer of 2022, some smaller and some larger scale; more continue to form, foreseeing the continuously growing demand.
The highest concentration of the prosthetic facilities is currently in Lviv and Kyiv oblasts. This is due to two main factors: some facilities have relocated from other regions for war-related reasons and others have found that more patients ended up in those oblasts as a result of their rehabilitation evacuation pathways (this factor is now gradually changing).
Ukrainian amputees are free to choose where to get their limb prosthetics. The government funding is sufficient in the predominant number of cases. Some policy changes are required to ensure that prosthetics for some levels of amputations is adequately reimbursed considering a person's needs and mobility/functional ability level.
Quality and Аccessibility of the Limb Prosthetics Services in Ukraine
The lack of pre-prosthetic rehabilitation during the first half of 2022 presented a major issue in the amputee care and subsequent prosthetic fitting. Based on the data collected from our amputee hotline by the end of 2022, 92% of the callers responded to the question "Have you completed a pre-prosthetic rehabilitation?" with a "No". Then in our May-July, 2023 general amputee survey the number of those who stated that they did not complete any pre-prosthetic rehabilitation was 27.8%.
Protez Hub began actively promoting the need for post-surgical pre-prosthetic rehabilitation as soon as we have analyzed the amputee hotline results. Together with our partners we launched Baza Znan: Protez Hub and Backpacks for Amputees: Closing the Gap in Post-Surgical Rehabilitation projects. We also continued with our webinars together with Prosthetika.
Thanks to the legislative changes in 2022 introduced by the Ministry of Social Policy, many bureaucratic hurdles to obtaining prostheses were removed. However, international logistics and delays from the foreign component manufacturers, although significantly improved overtime, continue to affect some of the cases (especially when it comes to upper limb prosthetics). In general, though, 90.1% of the surveyed amputees indicated that they had to wait for their prostheses less than 2 months. 
86.4% of the respondents shared that they were educated on the proposed prosthetic components and 88.9% of amputees stated that they discussed their prosthetic goals with their prosthetist.
Although fabricating a test prosthetic socket has now become a rather common practice in Ukraine, 16.8% of respondents indicated that they received their prosthetist fabricated a definitive socket right away, without giving them an opportunity to test.
91% of those who participated in the survey were confident that their prosthetist did everything possible to make their socket comfortable. 88.9% of amputees were satisfied with the quality and comfort of their prostheses. 
While prosthetic rehabilitation is important, 14.8% of respondents shared that they were not trained in the use of their prostheses. In such cases amputees had to go home and practice on their own, then come back to adjust the sockets.
Based on the information collected we reminded all prosthetic facilities of the importance of the prosthetic rehabilitation as well as their obligation to provide it by law.
In 87.6% of the cases amputees received instructions on how to care for their prostheses and explained the warranty terms.
Based on the available national data on those who lost their limb due to the full-scale invasion, over 98% were fitted with prosthetics in Ukraine and in 96.3% of the cases the prostheses were funded through the Government of Ukraine program.
In addition, a significant number of those who were fitted with prosthetics abroad or through a charitable program in Ukraine still applied for prosthetics through the Government of Ukraine program. 
14.8% of surveyed amputees indicated that they do not feel their choice of a prosthetic facility was well thought out. They feel that they were somewhat pressured and rushed into making a decision, lacking independent information on available options.
Prosthetic Facilities and Human Resources in Ukraine
In Ukraine, there are private and state prosthetic facilities. Most of those facilities are able to receive reimbursement through the Government of Ukraine program, however some are not registered with the State drugs service of Ukraine as prosthetics providers and thus, cannot work with the Government funding.
We were able to survey 72% of all facilities (both staff involved in manufacturing prosthetics and leadership staff).
80% of those surveyed indicated that they found it difficult to find new qualified employees, both prosthetists-orthotists and prosthetic-orthotic technicians. 60% shared that they were planning to hire more employees in the near future.
All respondents agreed that a formal university education program is required for future generations of prosthetists-orthotists (Protez Hub has started working on it, so please contact us for more information if you would like to partner).
70% of the existing specialists are interested in training and certification in myoelectric hands (that are registered in Ukraine and can be reimbursed through the Government of Ukraine funding).
43% asked for more thorough education in hip and shoulder disarticulation. 81% stated that they were interested in learning new effective socket manufacturing techniques. 88% are interested in trying various 3D socket manufacturing technologies provided they are not significantly time and resource consuming, as well as provide manufacturing relief.
95.6% of facilities surveyed agreed that there is a need for better coordination between prosthetists and physical/occupational therapists. They believe that such collaboration would improve outcomes for their patients. Thus, the specialists would welcome additional opportunities for multidisciplinary professional exchanges.
69% of the surveyed specialists held some type of myoelectric prosthesis certification and 80% were certified in fitting electric prosthetic knee joints. 3% of respondents indicated that they could successfully fit a patient with a hip disarticulation amputation (which is considered a complex type of amputation).
The survey analysis has highlighted some of the common industry challenges
Funding provided through the Government of Ukraine program is sometimes not sufficient for civilians, as well as for certain types of amputations in both civilians and military. This needs to be monitored and policies need to be revised in order to address this. 27.2% of respondents stated that additional funding was required in the past year to cover the cost of the required prosthesis for their civilian amputees.
The approximate ratio of upper to lower limb amputation is 35% to 65%. This means that more prosthetists need to become proficient in upper limb prosthetics manufacturing in order to address the demand. 
Currently, one prosthetist fabricates on average 95 prostheses per year (this includes both upper and lower limb prostheses), however, the Standard Deviation is high, meaning that some facilities may fabricate significantly more than others per month.
Ukraine has become a testing ground for a number of low quality/experimental prosthetic devices and solutions. Patients need to be educated on how not to fall victim to those. All stakeholders need to keep the patients best interest at the center of their activities.
Conclusions
In general, the Ukrainian prosthetic industry is well developed and continues to develop further. There is a healthy level of competition among the prosthetic services providers. Although there is a higher than normal number of amputees, the industry is coping. It is important to support Ukrainian service providers and their patients on the ground. There is a need for continuous professional development opportunities, as well as for the establishment of a complete education cycle for the new candidates. There is also some need for componentry sponsorship.
Protez Hub, together with its partners, is taking a number of actions in order to facilitate positive and sustainable changes in the industry. We continue organizing professional exchanges between Ukrainian professionals from across Ukraine and their international counterparts in Ukraine/outside of Ukraine. We inform patients and their families on the process of rehabilitation and obtaining prosthetics in Ukraine.
---
Media Inquiries: contact@protezhub.com or press@protezhub.com